Cookies Policy
1. What are cookies?
A cookie is a small file that is downloaded onto your terminal (computer, smartphone or tablet) when you access a web page or use an application; the cookie then lets the web page owner store or gather information about aspects of your browsing behaviour. At CONSTRUCCIONES RUBAU, S.A. (hereinafter RUBAU) we hereby provide the necessary information about the use of cookies on our website so that you are fully able to make decisions regarding their use and with regard to protecting your privacy.
2. Types of cookies and what cookies do we use?
In general, cookies can be used  to enable, customise and analyse browsing, thereby improving the quality of the services that we offer. Cookies are classified in various categories and a cookie may be included in more than one category:
Session cookies:

temporary cookies that are not stored on your terminal. They disappear when you end your browsing session

.

Persistent cookies: make it possible for data to remain on your terminal. This data may be processed after the browsing session has ended.
Own cookies: cookies sent to your terminal from the website although some are provided by the Google Analytics tools.
Third party cookies:

cookies that are sent to your terminal by a domain that is not managed by the Web but rather by another company that processes the data obtained via these cookies. 

Technical cookies: cookies that make it possible to browse the website and to use its options and services, such as those that control traffic, communicate data, identify the session, access restricted access areas and use safety features while browsing.
Customisation cookies: allow users to access the website with some predefined characteristics according to criteria that include language, browser type and regional configuration for the location where the service is being accessed from.
Analytical cookies:

used to monitor and analyse users' behaviour. This type of cookie allows to measure website activity based on aggregated information or statistical information about browsing habits. In case of using this type of analytical cookies,  these are provided by the Google Analytics tool. You can obtain further information about Google Analytics by clicking on

this link. In case you want to deactivate them, you can also do it by installing this plugin.
The cookies used on the Web are detailed below: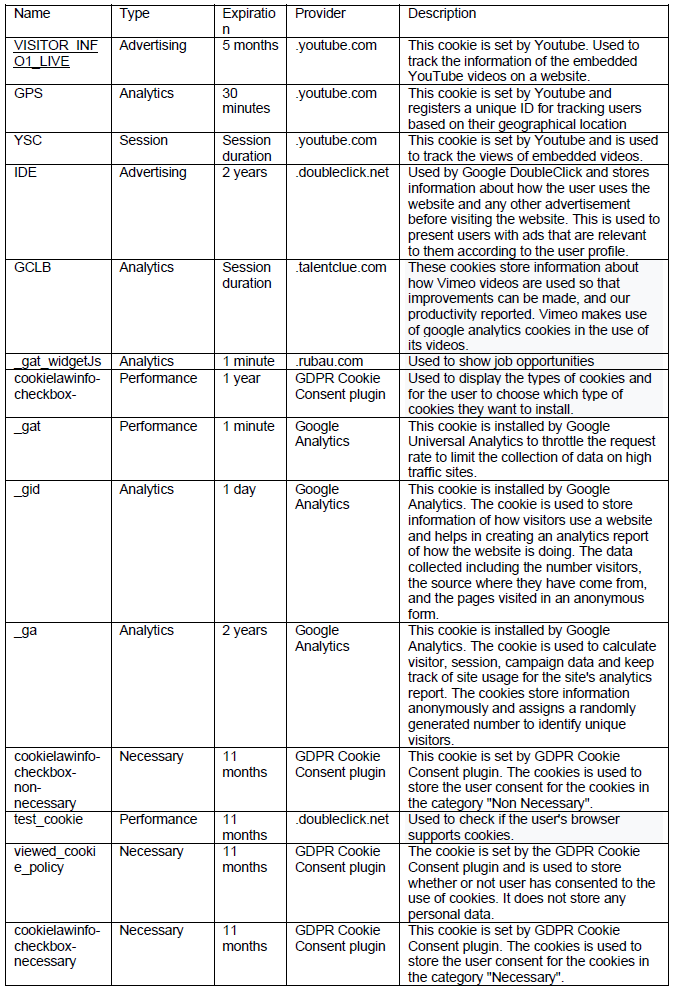 3. Who uses cookies?
The information gathered via cookies downloaded from the domain managed by RUBAU is used by RUBAU and Google Inc. as providers of the analysis services. Other third parties such as YouTube access the information gathered by the cookies managed from their domains. For further information we recommend following the links provided for this purpose..
4. How can I manage cookies?
When users access the website for the first time they are informed about the presence of cookies and this Cookies Policy. Users may subsequently consult the Policy by following the link provided. If you would like to withdraw your consent to the use of our website's cookies at any time, you should delete the cookies stored on your terminal. However, you are hereby informed that if you delete cookies or prevent cookies from installing on your terminal, some functions, services and website content may be affected. Internet browsers let you view, disable, limit, block and delete cookies.
You can allow, block or delete the cookies installed on your computer by configuring the browser options installed on your computer
In addition, you are hereby informed that some browsers let you activate a private or "incognito" mode so that cookies are installed on your terminal but are automatically deleted when the browsing session ends.